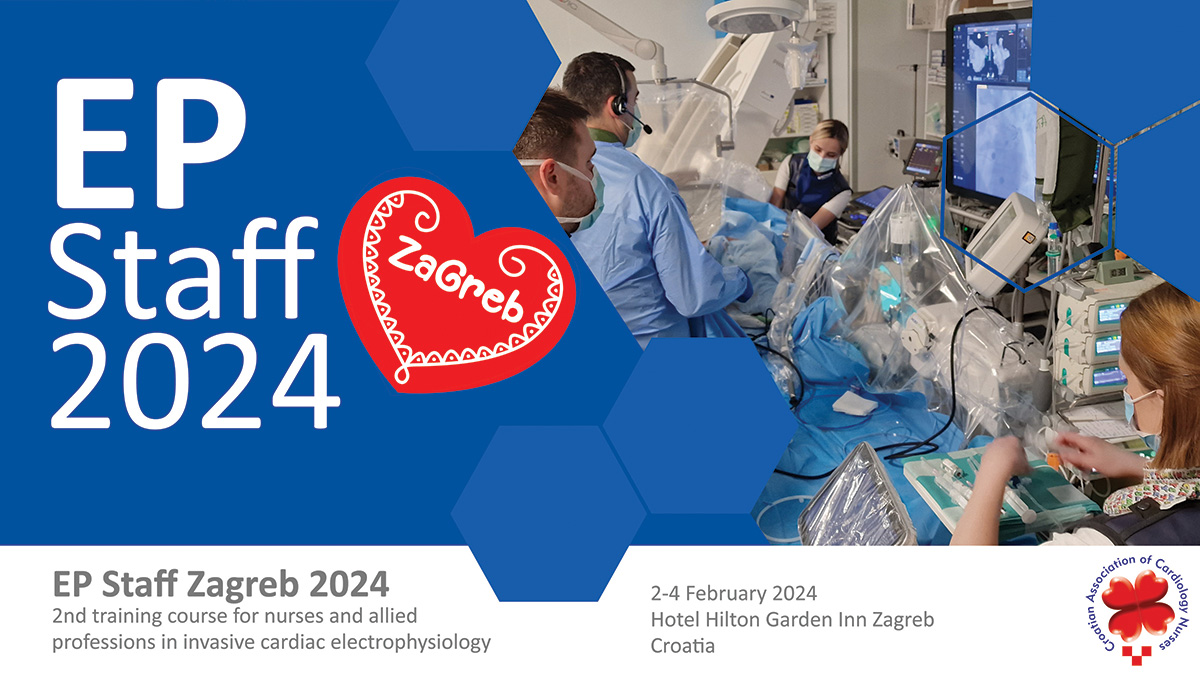 Poštovane kolegice i kolege,
Iznimno nam je zadovoljstvo pozvati vas na 2. radionicu namijenjenu medicinskim sestrama i srodnim profesijama, posvećenu invazivnoj elektrofiziologiji – EP Staff Zagreb 2024. Ova radionica će se održati od 2. do 4. veljače 2024. godine u organizaciji Hrvatske udruge kardioloških medicinskih sestara. Prva radionica, održana 2020. godine, neposredno prije izbijanja pandemije COVID-19, predstavljala je prvi takav događaj na ovim prostorima i postigla izniman uspjeh. Unatoč najavi lockdowna, koji je uslijedio već tjedan dana kasnije, na radionici je sudjelovalo 70 polaznika iz 19 elektrofizioloških centara iz Slovačke, Češke, Slovenije, Bosne i Hercegovine, Srbije, Sjeverne Makedonije i Hrvatske.
Svjesni smo da terapijske mogućnosti u invazivnoj elektrofiziologiji vrlo dinamično napreduju iz dana u dan, i njihova primjena nije moguća bez iskusnih timova. Pored praktičnog iskustva, teorijsko znanje također ima iznimnu važnost. Stoga je ova trodnevna radionica pripremljena za medicinske sestre i srodne profesionalce s različitim razinama iskustva, i voditi će je iskusni predavači s dugogodišnjim iskustvom u elektrofiziologiji srca. Cilj radionice je omogućiti polaznicima da steknu nova znanja i unaprijede postojeća. Ova radionica je prikladna kako za početnike tako i za napredne korisnike, te će pokriti osnove rada u elektrofiziološkom laboratoriju, kao i podršku pri liječenju složenih poremećaja srčanog ritma.
Osim razmjene stručnih iskustava, radujemo se i pružiti vam ugodan boravak u Zagrebu, uz neformalna druženja i razmjenu iskustava između različitih centara. Veselimo se vašem dolasku!
Srdačno.
Dear colleagues,
We are delighted to invite you to the 2nd workshop designed for nurses and allied professions, focusing on Invasive Electrophysiology – EP Staff Zagreb 2024. This workshop is scheduled to take place from February 2nd to February 4th, 2024, organized by the Croatian Association of Cardiology Nurses. The inaugural workshop, held in 2020 just before the outbreak of the COVID-19 pandemic, marked the first event of its kind in this region and achieved exceptional success. Despite the announcement of a lockdown, which followed just a week later, the workshop hosted 70 participants from 19 electrophysiology centers in Slovakia, the Czech Republic, Slovenia, Bosnia and Herzegovina, Serbia, North Macedonia, and Croatia.
We recognize that therapeutic possibilities in invasive electrophysiology are evolving dynamically day by day, and their effective implementation requires experienced teams. Alongside practical experience, theoretical knowledge holds exceptional significance. As a result, this three-day workshop has been prepared for nurses and allied professionals with varying levels of experience. It will be led by experienced lecturers with a wealth of expertise in cardiac electrophysiology. The workshop's aim is to facilitate participants in acquiring new knowledge and enhancing their existing skills. This workshop is suitable for both beginners and advanced users, covering the fundamentals of working in an electrophysiology lab and providing support in the treatment of complex cardiac rhythm disorders.
In addition to the exchange of professional experiences, we look forward to providing you with a pleasant stay in Zagreb, offering opportunities for informal gatherings and the sharing of insights among professionals from different centers. We eagerly await your attendance!
Best regards.
Organizator | Organizer
Hrvatska udrug

a kardiološ

kih medicinksih sestara |

Croatian Association of Cardiology Nurses

Radna skupina za aritmije i elektrostimulaciju srca |

Working Group for Arrhythmias and Cardiac Pacing
Organizacijski odbor | Organizing Committee
Ivan Babić (SRB), Nihad Bakić (BIH), Ante Borovina (HR), Marina Budetić, (HR), Miroslav Geček (HR), Zvonimir Katić (HR), Marina Klasan (HR), Mateja Lovrić (HR), Matija Mlinar (HR), Alen Pažman (HR), Tomislav Pijetlović (HR), Enes Vatić (ME), Marko Živkovik (MK)
Mjesto održavanja | Venue
Hotel Hilton Garden Inn Zagreb
Radnička cesta 21, 10000 Zagreb, Croatia
Službeni jezici | Official languages
Hrvatski i engleski | Croatian and english
Kotizacija radionice | Course FEE
600,00 €
Kotizcija uključuje | Course FEE includes
Sudjelovanje na radionici | Participation at Course
Materijale na radionici | Course materials
Obroke prema programu (pauze za kavu, ručkovi i zajedničke večere) | Meals as per Programme (cofee breaks, lunches and group dinners)
Potvrdnicu o sudjelovanju na radionici. Potvrdnica će biti udjeljena svim registriranim polaznicima. Tečaj je bodovan po pravliniku Hrvatske komore medicinskih sestara. | Certificate of attendance. Certificates will be awarded to all registered participants. The Course is scored according to the regulations of the Croatian Chamber of Nurses.
Kotizacije ne uključuje | Course FEE does not include
Troškove putovanja | Travel expenses
Izlaganje| Exhibition
Tijekom radionice, postoji mogućnost za prezentaciju medicinskih proizvoda, lijekova i medicinske opreme. Svi zainteresirani imaju mogućnost poslati upit tehničkom organizatoru tečaja ukoliko žele prezentirati svoje proizvode. | During the Course, there is an opportunity for the presentation of medical products, medications, and medical equipment. All interested parties have the option to send an inquiry to the Course's technical organizer if they wish to showcase their products.
Registracija, smještaj, sponzoriranja | Registration, Accomodtion, Sponsorship
Tehnički organizator radionice | Technical organizer of the Course
BIZZ putovanja d.o.o.
II Ravnice 1A, HR 10000 Zagreb, Croatia
T +385 1 4111522
M +385 994987333
E goran@bizztravel.biz
EP Staff Zagreb 2020
Galerija slika | Gallery
Hrvatska udruga kardioloških medicinskih sestara Adresa
Klinika za bolesti srca i krvnih žila | KBC Zagreb
Kišpatićeva 12 | HR 10 000 Zagreb